One of my friends once asked me about what criteria do I look in a guy. Noooo, this won't be a post dedicated on me gushing about my dream guy. Then, she asked me, not asked, stated actually that hey since I love K-pop I must be looking for a guy that loves K-pop too.
I answered, HELL NO. And this is a story on why I don't want an equally obsessed K-pop fan as my man.
This happened rather recently. On Saturday, 19th March, 4.30 p.m to be exact. So for K-pop enthusiast you guys must know what that date means; Super Junior Super Show 3 Live in Bukit Jalil. Okay, I wasn't exactly a Super Junior fan (or an E.L.F) since I'm leaning more towards DBSK (hence I am therefore a Cassie):P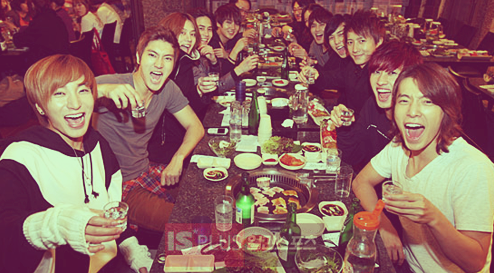 In case if you don't know, these dorky guys are Super Junior-ohhh

But since there were rumours flying around that this maybe will be their last concert before Leeteuk departure to the army, I thought why not going. That is until I found out that I had to complete my 1 minute animation before Monday.
Since I already bought the ticket (way waaay earlier), I went to the concert with a very very very heavy heart, remembering all those works at home :( I have to give credits to E.L.F's, all of them are very friendly and sweet and lovely :') Someone even offered me to carpool but since I already promised with a friend to commute, I declined her offer.
But seriously, a shoutout to all E.L.F's out there: YOU GUYS ARE THE NICEST PEOPLE I EVER MEET! By the way, for those who are not used to K-pop term, E.L.F stands for Super Junior's fanclub Ever Lasting Friend.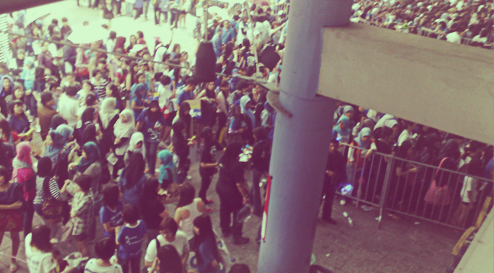 E.L.Fs lining up.
It was raining that day when I arrived at Bukit Jalil and I was starting to regret my decision on coming, again remembering all those works piling at home. The earlier thoughts of going back home faded away when the ever committed E.L.F's gave away free banners. I'm a sucker for freebies soooo…hahahahha.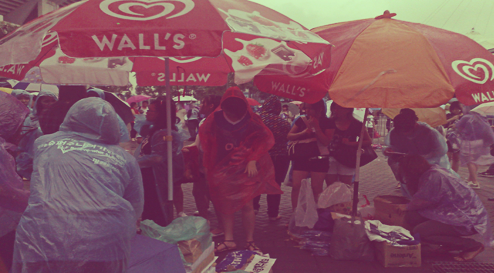 E.L.Fs giving away free banners :*

The rain didn't stop E.L.Fs :)

This uncle and aunty are 78 years old. But they still came to watch. Btw, uncle's bias is Donghae haha

Line-up for hours and finally entered the stadium at 4:30, I looked for my seat and found out that I was the only one in my row at that time. So I sat in silence playing with my lightsticks and looking at those free banners and pretending to text. Minutes later, one guy was searching for his seat in front of my row. Glanced at him and thought he was pretty cute :p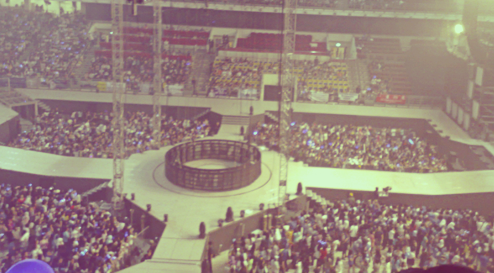 The stadium, before the concert starts. Around 5 p.m

He kept walking around and round, probably couldn't find his seat. A staff came up to him and asked him what was his seat number and whaddya know, his seat number was beside mine. I swore I was trying hard to contain my (gatal) smile at that time because, really, he's cute! At that time, I was thinking how lucky am I to be seated next to a cute guy among all this sea of females. Sure, there were a few guys around but mannnn, he's cute and that time that's the only thing that matters!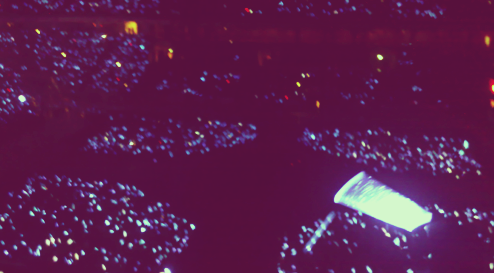 The stadium as the concert about to start! SAPPHIRE BLUE OCEAN

Since the concert starts waaaaay later (and it seems that we're the only people on that row at that time), we talked. He's 20 from Sabah, studying at IPG Kuching. I was rather amused at the distance he traveled and he shrugged it off saying that it maybe is their last concert. And I was like "SAMALAH!" (gatal mode -.-") I asked him what is his bias in the group and he answered, "No one in particular. I like everyone the same." He asked mine and I answered rather enthusiastically "EUNHYUK OPPA". After that, I couldn't remember what we talked about, it was nothing important I guess. Just to kill the time and all.
At one moment, the rock pitt area suddenly screamed and we looked at them just to find a few security guards were checking the stage. Facepalm. Then he looked at me with that cute face of his and said, "They really need to chill right? By the way, you can shout all you want when the concert starts."
Awwww ♥
Let's skip. I know you guys are holding your barf.
The concert started and more people were filling up the empty seats. And I couldn't remember who was floating in the air at that time, Donghae or Leeteuk and we all screamed like we never screamed before and the whole stadium was a sapphire blue sea (of lightsticks). The guy beside me (and all the other guys) screamed too but not as enthusiastic as us fangirls.
Well, initially.
That was until Henry's solo performance. Henry sang Justin Bieber's Baby. Being a Cassie, of course I didn't know trivias about Super Junior's members. Then he whispered to me before Henry sang, "I bet Henry will sing in English since he's from Canada. You'll see." And I was like, "Okay sure." Random trivia much.


Henry sang BABY BABY BABY OOOH and the guy beside me screamed very very very very loudly "HENRY HENRY HENRY HENRAYYYYYYYYYY BABEYY BABEYY OOOOHH" I tried very hard not to look into his direction at that time as everybody in that area stared at him, eyes bulging since he was the only guy that screamed at that time. Then he looked at me and pointed towards the stage very excitedly "SEE I TOLD YOU! HENRAYYYY"
And yeah, that awkward moment when everybody stared at me with a "poor her for having that kind of boyfriend" stare. I smiled at him and waved my sapphire blue lightstick.
I thought that was the end. But it was only the beginning.
Everytime he screamed, everybody, and I mean everybody will turn their head at us. It was totally not helping that he would look at me and told me what happened on the stage as if I wasn't there. He would become more excited when Eunhyuk was on the stage "YOU SEE EUNHYUK? THERE THERE. SCREAM FOR HIM, HE'S YOUR BIAS RIGHT?"
Of course I saw Eunhyuk. I sat right next beside you, if you see him, I'll see him too. Arghhhhhhh.
It was Kyuhyun time to do his solo. And I swore that this guy looked like he was about to leap off the balcony towards the stage. "CHO KYUHYUNNNNNNN! KYUHYUNNNN! CHOOOO KYUHYUNNNNNNNNN! AHHHHH CHOOO KYUHYUUUNNNN!!!!!"
It was very obvious at that time that Kyuhyun and Henry are his biases. Pffft, so much for not having any bias.
You know, I was right. He told me right after Kyuhyun finished singing, "Can I just jump towards the stage?" I could only laugh awkwardly. Ha. Ha. Ha.
Throughout the night, I had to deal with being stared at as supposedly "the girlfriend" and trying to prevent him from jumping off the balcony towards the stage. He couldn't stop screaming Kyuhyun's name everytime, everytime they sang. There was a time that I poked him with the lightsticks because he kept making ongoing lame jokes. For example, there was a song tribute for Kangin and at the other side of my seat, there was Indonesian E.L.Fs. He looked at me and said, "Kangin bukan kangen ek?"
At the closing speech when Henry was about to speak, he whispered to me "Henry'll will speak in English." And when Henry did speak in English, he looked at me and said "HENRY HEBAT KAN?"
At the end of the show, with hoarse voice because of the excessive screaming, I asked him rather offended, "YOU SAID YOU DON'T HAVE ANY BIAS. LIAR! You totally went all out for Kyuhyun!"
He, with even hoarser voice, answered sheepishly, "Well yeah, Kyuhyun is my bias, I suppose."
The only thing running through my mind at that time was, good thing that you're cute!
And this is why my friend, I don't want a K-pop fan as my boyfriend/husband. I wasn't even his girlfriend, I barely even know that guy but people keep looking at me with that "shucks for her to have that kind of boyfie".
But still cute fanboy is cute :p
By the way, my favourite performance that night:

P/S: Next entry will be in Bahasa.